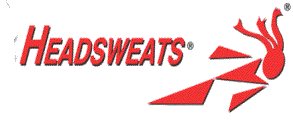 made from CoolMax
HeadSweats are one of the greatest skullcaps around. Not only do they look great, but they work to keep your head cool in the summer and warm in the winter.
HeadSweats products are made with DuPont CoolMax®, a revolutionary new fabric. The engineered fibers feel cool and dry against your skin - no matter what the conditions.
The DuPont CoolMax® comfort system uses Perspiration Technology® that wicks moisture away from the skin, and dries 3 to 4 times faster than regular cotton.
The sweatbands are made of CoolMax terrycloth. The loops of the CoolMax® terrycloth increases the surface areas for incredible moisture transfer.
The elastic headband stretches all the way around your head for a comfortable, snug fit.
CoolMax provides an Ultraviolet Protection Factor of over 40.
Read: How CoolMax is Made
This is the best thing to wear when you are exercising, on your motorcycle, working in the yard, or just hanging out.

Headsweats

Race Caps

DuPont certified UPF sun protection.
CoolMax® terry band keeps sweat off your face and out of your eyes.

HeadSweats Spincyle

The most comfortable cycling cap you will ever wear!

HeadSweats SuperVisors

Ultra-low weight - less than 2 oz.

Topless Headsweats headbands

The ultimate sweatband with CoolMax terrycloth to wick away sweat.

CoolMax SKULL CAPS

100% Dupont CoolMax, For warm or cold weather

Black, Royal, White, Red

MID CAPS

Head covering for cold days or under a hard hat
Black, Royal, White, Red
Cool Bandanas
Relief from the Heat!
How they work
How to Use

What is Heat Stress

Special Orders

Wholesale