Cool Bandanas - What They Are
Worn around the neck or forehead, the Cool Bandana continually pulls the heat out of your bloodstream as it rushes past the veins in your neck. The coolness circulates throughout your whole body and can keep your body temperature at a comfortable level all day long. You literally get cooled from the inside out!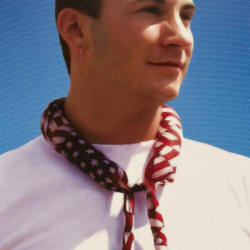 The principal at work here is the powerful cooling properties of evaporation. Don't be fooled by others that will sell their product based on it's ability to keep a refrigerated coolness like an ice pack on your neck. The whole idea is to stay comfortable, and let the evaporation cooling process do the work.
Cool Bandanas are 35" long and 2" wide. (Extra Long is available at 42".) The tails on each end are 8" each, with a 19" pocket in the middle that has the polymer. The material we use is 100% cotton, so they can be worn comfortably all day.
We use a variety of colors and designs. You can mix 'n match within any order.
We use the highest quality polymer, which is made in America not Indonesia. It lasts longer and works better. It absorbs 400 times its weight in water and is non-toxic so it will not irritate the skin.
Our product is made here in Dallas, TX, not in China. You can be sure of the difference in workmanship. We guarantee every bandanna we send out for any defects you may find.