Great for the Pool, Health Club, or Gym!

When You're Hot ... It Cools! When You're Wet ... It Dries!


The Sammy Cool 'N Dry is brother to the Sammy swimming and diving shammy. Its convenient size of 8˝" x 27" is designed to wear around your neck and keep you cool.

Made of a high tech PVA polymer material which is highly absorbent, Sammy Cool 'N Dry is great for staying cool during hot weather or drying off after a quick shower. Unlike other PVA chamois products, one side is waffle textured for fast cooling. The opposite side is smooth, great for drying off.

So, how does it work? The Sammy Cool 'N Dry is used wet. Simply wet with water, ring out, and the capillary action of the micro-pores allows the towel to become about 20 degrees cooler than the existing air temperature.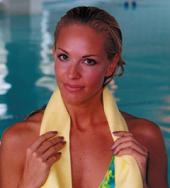 Although the product is used wet, it doesn't drip and feels cool to the touch. If the product starts to dry out after the 7th or 8th hole of golf, re-wet with water. Wring out, and it's ready for another round.
The Sammy Cool 'N Dry is your "personal air conditioner."
Only $5.00 with Free Shipping
Click Here for Use Instructions: HOW TO USE
NINE COOL COLORS:

Teal

Aqua Green

Pink

Fuchsia (dark pink)

Orange

Yellow

Royal Blue

Marine Blue

Lime

Sammy Cool 'N Dry

cooling towels

$5.00